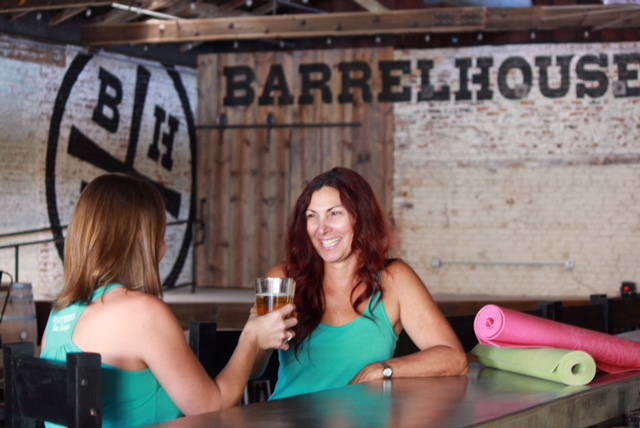 11 Dec

Yoga and Beer at Barrelhouse Visalia

Yoga and Beer have been increasing in popularity in larger cities all over the country and now it is here in Visalia, CA. We have partnered up with BarrelHouse Brewing Co. in Visalia to offer Yoga and Beer, also referred to as "BOGA" (Beer and Yoga). December will be our fifth month offering BOGA at the Brewery.

We want fitness to be fun and at Oak Street Studios, we have created a social community within our classes that have developed into friendships and a positive supportive environment that supports a healthy body and healthy mind. Breweries already have a fun and relaxed vibe – you go to socialize and have fun with friends. BarrelHouse is no stranger to this environment with their motto "Good People – Good Times – Great Beer." The atmosphere has large tables where people can come together, have conversations, play a game of Jenga, Connect Four or UNO from their selection of games while enjoying exceptional craft beer.

Offering yoga at the Brewery has given some people the opportunity to do Yoga that would have otherwise may not have stepped into a traditional Yoga class. While traditional yoga tends to encourage a focus on oneself, individual breathing and controlling one's thoughts, the Yoga and Beer classes are all about community. It's a perfect pair to reduce stress and relax on a Saturday morning. With so much social media and technology these days, sometimes we get lost in the interactions and connections with people and we feel that Yoga at the Barrelhouse really brings us back to what's important in life. Unlike a traditional yoga class where the class is quiet and focused during instruction, this is more of a relaxed vibe where you can laugh while doing fun poses, connect with your neighbor during partner poses and then enjoy a great beer with them afterward. Another thing that makes Yoga at the BarrelHouse so unique is that it is family friendly so that little yogis can join in on the poses too!

Grab your yoga mat and come join the fun on December 16 at 10 am. We usually sell out in advance so reserve your spot early (link at the bottom of the classes page) or directly through the Mindbody app. Tickets to Beer and Yoga are $12 which includes a pint of beer, and $5 for under 21. Keep an eye out for our 2018 events which are set for January 20, February 17, and March 17 at the BarrelHouse in Visalia, located at 521 E Main St.