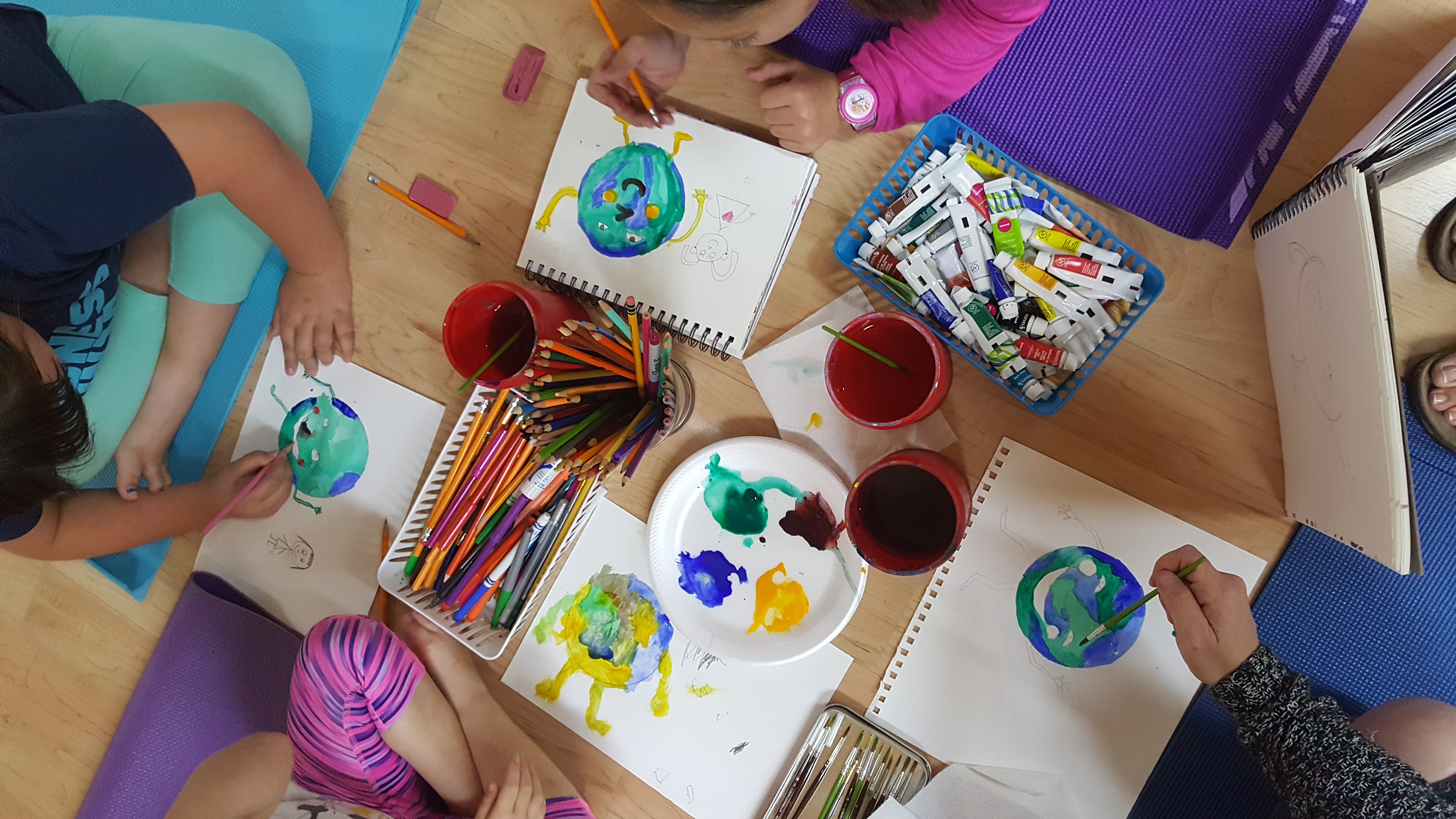 29 Dec

The connection between Kids Yoga and Art

I never thought I'd write an article that started out when I was a kid, but I think it's fitting. When I was a kid the only thing I worried about was how many more hours would I have to play outside. By 10 am every kid on the block was outside and ready for a new adventure. We could always count on a good game of gorilla ball (driveway basketball), jump rope with the girls down the street or a bike ride to what we called little forest, a small ditch in the middle of a oak tree orchard with dirt trails. In today's world kids have much more stress and anxiety than I ever imagined.  In today's world kids are plugged into technology or expected to be the smartest the fastest and the best at whatever they do rather than just trying their best and being who they are and okay with that. Kids Yoga and Art brings that back in a non competitive environment to feel okay being who they are.

A detail I must disclose is my age I'm a 46 year-old mom of an 8 year old and she is my only child. She's an outgoing beautiful young thing who has humored her parents and tried many activities. We tried t-ball, soccer and we even spent three years training at a Jiu-Jitsu facility. Currently she takes tap Jazz and ballet and does play the piano beautifully. This last summer we even ventured into trying out for a cheer-leading squad which she thoroughly enjoyed.

Now for a few more details. Just over a year ago with a business partner I opened up a Pilates and yoga studio. At that point I was not a yoga instructor although I had had my yoga cert I never thought I would find a passion for teaching kids yoga. Only a month into teaching kids yoga we added art to the classes and this is where I saw before my very eyes my daughter at peace.

With this being my 12th year in the fitness industry I've read numerous articles in regards to the benefits of children doing yoga but until I saw it you just don't get it it is the most beautiful thing to watch a child in a non competitive environment find strength, confidence,  the ability to reduce stress and anxiety, create coordination and balance and best of all be creative in who she is through her art.

A typical class would look like this:

– a game to get the Wiggles out

– a mindful minute

– whole body listening

– a gentle warm up

– 20 minutes of a yoga flow told through a story with a mindful theme

-30 minutes of art journalism

We teach these classes accompanied with an adult class in our adjoining Studio. Parents are able to keep their mind and body is healthy and give their children the same gift.

It brings me much joy to see the look on the parents face when they open that door and they hear nothing it's quiet and their kids are peaceful. The only questions the kids have is…. when are they getting to come back?